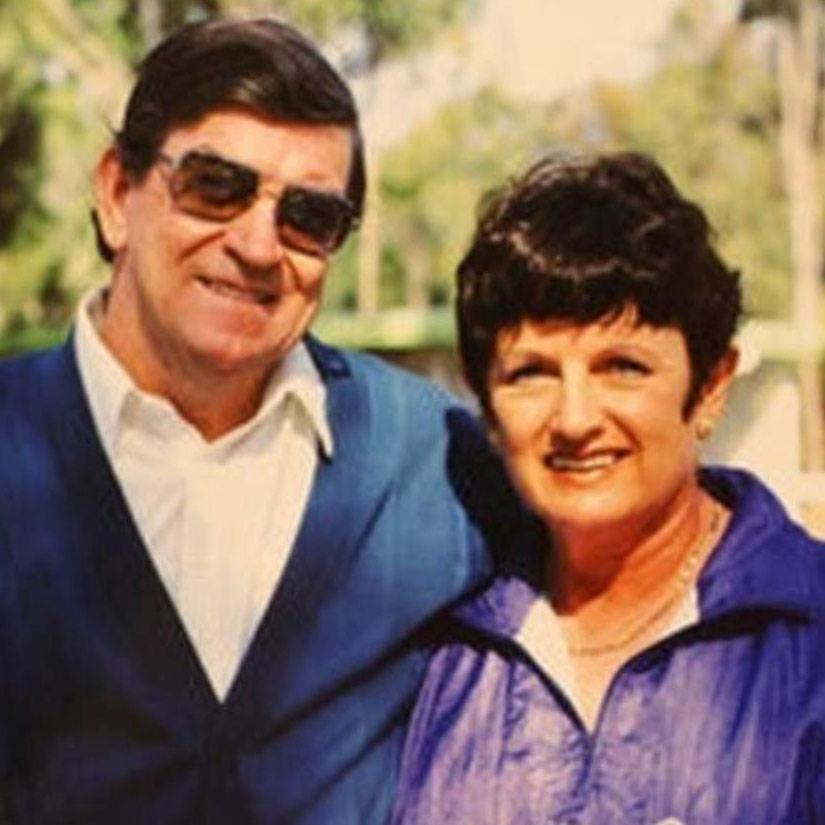 19 Nov 1932 – 28 Aug 2001
d'Arcy William Doyle was born on 19 November 1932, the youngest child of Thomas Doyle and Marguerite (nee McGrath), each of whom had a rich and colourful Irish Catholic working background with a touch of convict element. d'Arcy was initially christened William d'Arcy Doyle, but he quickly became known as d'Arcy, and his parents later made that official by effecting a formal change of name.
At that time the Doyle family home was at 39 Darling Street, Ipswich, Queensland, near Brisbane and that home, its surrounds, particularly the Jacaranda tree, the residents of Darling Street and their environment, were to later figure prominently in many of d'Arcy's paintings.
In those years of the great depression, d'Arcy and his family knew poverty and hard times. However, his father Thomas had secure employment as a railway man, which put the Doyles in a better position than most.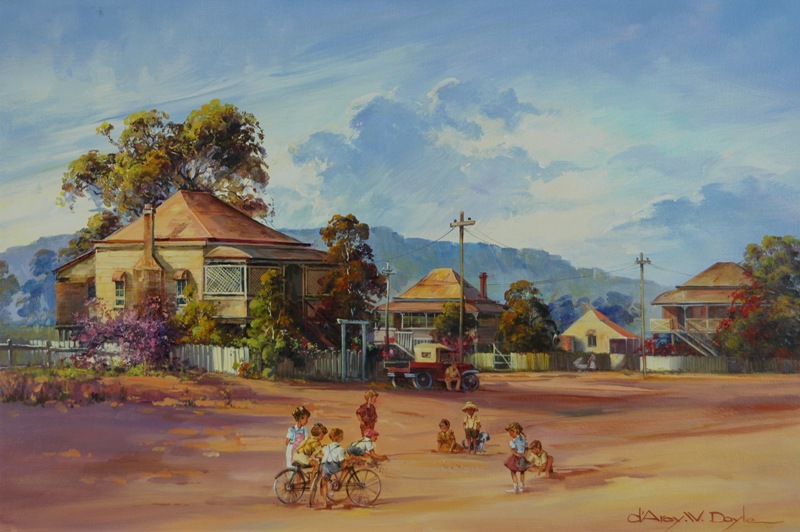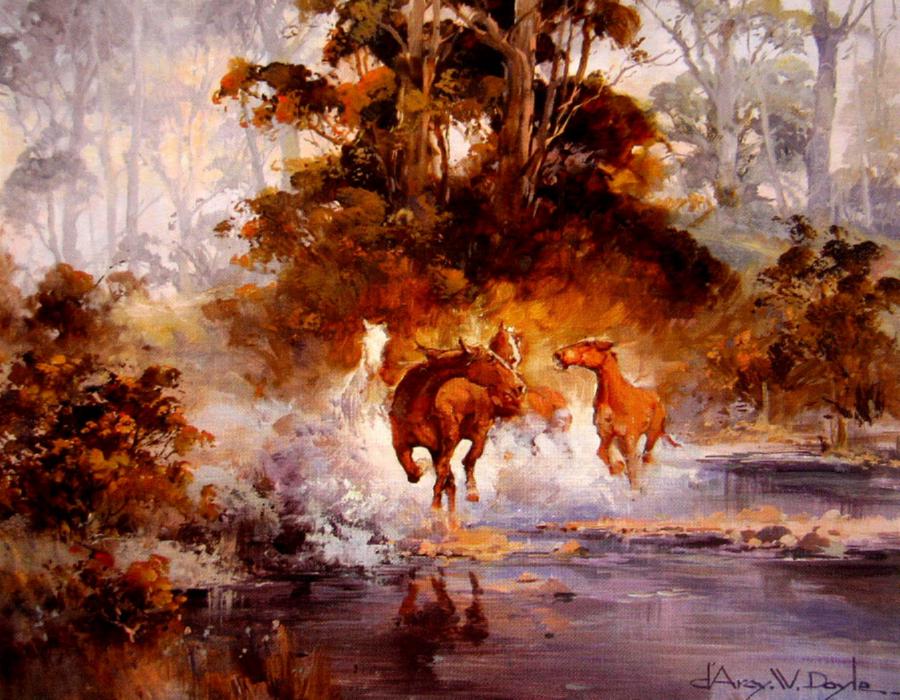 It was while still a school boy of 13 that d'Arcy realised he had artistic talent, which he wanted to pursue, but there was very little artistic activity in Ipswich, the nearest thing to true art being sign writing, with sign writers being required to create still but lifelike pictures of a wide range of products and images. They were the only artists that d'Arcy ever saw in action and he studied them intently, often watching them at work for hours, after which he would go home and himself duplicate the paintings he had been witnessing, in all sorts of locations, including the house stumps and underneath the floorboards and wherever else he could find a clear area. d'Arcy later claimed that he learned more about art from his time as a sign writer than he could have learned from any art school.
At the age of 18, d'Arcy felt restless and he and a couple of friends joined the Navy on 1 August 1951, while the Korean war was in progress, and there they later saw active service. While in the navy, d'Arcy was able to continue to indulge his passion for painting and sport.
By a long series of memorable incidents and adventures, many of them of sufficient significance to each warrant a short story, d'Arcy's artistic career continued to blossom to the point where, in the early 1960's, he took the plunge and terminated the secure employment he had commanded as a master painter and sign writer and started on his own as an independent professional artist.
d'Arcy's obvious talent continued to capture attention, and not long afterwards he was commissioned by the Belmore Returned Services Club in Sydney to paint a mural for the Club's Burwood Road premises, which he did so well and so quickly that within the next 10 years or so he was called upon to paint 50 or more murals for sevices clubs throughout Sydney, along with many other assignments. During one of those mural painting exercises, he was told by a rather grumpy official to get his stuff out of the function room where he was working, as a function would be held there that night and they wanted the room clean and tidy. d'Arcy pleaded for more time, saying that he was almost finished, and he wouldn't disturb anyone. The official got grumpier and insisted he leave, which he did. It was later found that, in a prominent position of the mural, as a parting gesture, d'Arcy had painted a pink elephant!
After living and working in Sydney for 8 years or more, d'Arcy met a young and very attractive Jennefer Taylor at a Christmas Eve party. The attraction was instant and mutual and in December 1968, d'Arcy and Jennefer were married in Brisbane. Two children followed, Samantha in 1970 and Alexandra in 1972. Some time later in 1973, by which time d'Arcy's fame and fortune had continued to blossom, d'Arcy and Jenny took the momentous decision to move to Queensland, finally selecting a two acre block of land in the Gold Coast hinterland at Murgeeraba, on which to build their home, and where Jenny continues to live.
One of d'Arcy's more famous paintings is the one entitled "The Cricket Match", which was the subject of a comparatively new marketing strategy, involving the production and sale of a limited edition of personally autographed prints, which proved so popular that the first edition of 1,000 prints was quickly sold, leading to several re-prints. That marketing strategy was repeated many times afterwards with many other d'Arcy Doyle paintings, and always with great results.
Many of d'Arcy's paintings had a sporting flavour, which is not surprising, considering d'Arcy's love of sport. He had a particular love of cricket, and one of his more famous sporting paintings was one of Sir Donald Bradman, which he donated to the Queensland Cricketers' Club. At the main entrance to the Sir Donald Bradman museum in Bowral is a large photograph of Sir Donald Bradman and d'Arcy taken in front of the original painting.
In 1990, after some years of not feeling well and while visiting Ireland, d'Arcy had some medical treatment and tests which revealed a diagnosis of bone cancer, leading to some years of painful treatment. By January 1992 d'Arcy's medical team cautiously advised that they could find no detectable signs of cancer. Sadly, the cancer returned some years later to finally take his life on 28 August 2001.
d'Arcy, his friends and acquaintances often testified that during this very trying time of d'Arcy's illness, Jenny constantly gave him comfort and support and companionship, to which he attributed his recovery, just as she had always been his constant companion and supporter during their 34 years of marriage.
His legacy lives on in his timeless and quintessentially Australian Art. The Doyles Art Awards endeavour to honour this legacy with a new generation of artists.