landscape. figurative. still life.
The Doyles showcase finalist artworks in a 10 day exhibition presented in Mudgeeraba Memorial Hall, Queensland and online. All artwork is listed for sale and artists are supported with a variety of promotional opportunities. Winner of landscape category receives a non acquisitive cash prize of $20,000.
Please review our full terms and conditions detailed here.
Landscape 1st Prize: $20,000 2nd Prize: $5,000 3rd Prize: $1,000
Figurative 1st Prize: $1,000 2nd Prize: $500
Still Life 1st Prize: $1,000 2nd Prize: $500
People's Choice People's Choice: $1,000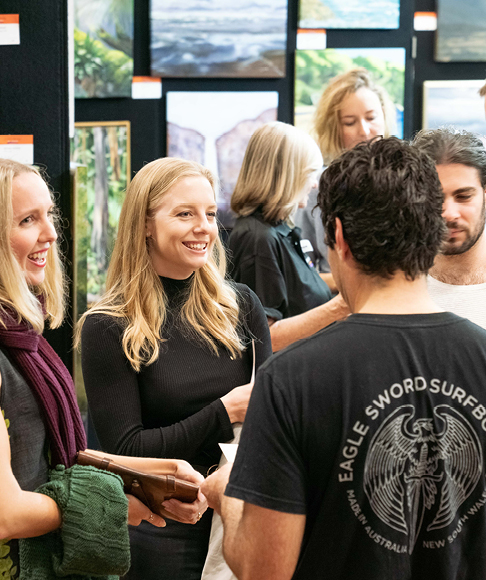 It's an evening to remember. A glittering display of colour and light, and a mingling of like minds. A glass of champagne and some tasty treats... this is The Doyles Award Ceremony.
Due to space limitations, tickets to the award ceremony are strictly limited. Please keep in touch on our social channels, website and emails to obtain tickets as they are released. If you are unable to attend, we will be broadcasting the award ceremony live on Facebook.
Winners will be published on this website.
Entries open to artists residing in Australia only.
A maximum of two entries per person.
Artwork must be original two dimensional paintings or drawings in any traditional medium (no digital work). Artwork(s) must not breach any copyright – this includes copies of professional artist's work done in workshop settings. (No Giclée prints).
Entries must not exceed a 450cm perimeter measurement for adults.
Artwork must have been completed within the last 12 months and must not have won a prize or be a finalist in any competition. Artwork must not be available for sale on any other platform during the exhibition timeframe.
Artwork must be framed and ready for hanging with cord or wire.
Adult Categories
Landscape: Landscape, seascapes, built form
Figurative: Living forms including portraits, figurative, animals
Still Life: Inanimate objects such as florals, vessels, furniture, tools etc
All Ability: All subject matter (non judged)
Where there is a mixture of both living form and still life, it is at artist's discretion which category to enter.
| Event | Date |
| --- | --- |
| Entries open | 1 March 2024 |
| Entries close 5pm | 24 May 2024 |
| In person artwork drop off | 23 June 2024 |
| Freighted artwork deadline | 21 June 2024 |
| Award Ceremony | 27 June 6pm (5pm Juniors) |
| Exhibition opens | 27 June 2024 |
| Exhibition closes | 7 July 2024 |
| People's Choice Award | 7 July 2024 |
| Artwork pickup | |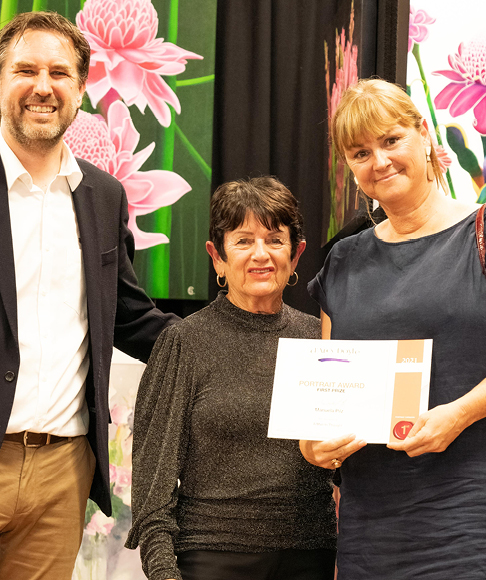 The preselection panel members and Judges for both the Adult Awards and Junior Awards change every year. They are a group of independent experts in their respective fields who display no bias or allegiance to any artist. Due to the large volume of entries, we are unable to provide individual feedback to the artist. We are unable to enter into any discussion about the selection of finalists and winners. The judges decisions are final.
The work will be judged based on
technical skill
a recognisable and relatable form and composition
individuality and creativity
that 'certain something' that makes you look twice, think about it, talk about it, or simply be amazed by the work
Judging will be done prior to exhibition opening, announced at Award Ceremony and published on this website.