An Interview with Dylan Cooper
With more than 30-years of experience, Left Bank Art Group has art printing, framing, logistics and artist representation down to a fine art. While this experience has been integral to Left Bank's success, Director Toby Simm credits Left Bank's personalised way of doing business as the key to their outstanding visual and commercial results. "Over time, we see our clients as extended family and move artistic mountains to meet their unique needs, whatever the brief and budget".
We talk to fine artist Dylan Cooper who has been using Left Bank's artist services for more than four years, to better understand the Left Bank difference.

Can you share a little about yourself, your background, and your work as an artist?
I've drawn and painted for as long as I can remember! My fascination with colour, technique and style was ignited by Monet's cathedral paintings, when I discovered them in an impressionist painters book during primary school. This experience ignited my life-long love of art.
Following high school, I embarked on a twenty-five year quest to learn the culinary arts. During this time, I travelled, lived abroad and worked in amazing restaurants. A calling to the visual arts remained strong, and as I was approaching my thirties, I finally decided to formally study fine art while continuing to chef casually. I graduated in 2012 and held my first solo exhibition in 2013. I haven't looked back since!
Your journey towards becoming a professional artist sounds fulfilling, but I'm sure there's been many challenges. How has working with Left Bank helped you overcome these?
Totally! The life of an artist, especially in the early stages, can be a bumpy road, but having the experience and professionalism Left Bank offers has been priceless.
Having a go-to for archival printing, framing, packaging and shipping is invaluable; I don't have to worry about the 'background grind', so I can focus on the creative side. I don't know of many other businesses in the industry that offer such a variety of products and services, while maintaining such a high standard, all under the one roof!
Left Bank also offers a wealth of advice and industry connections, which has also helped me take my practice to the next level.
Speaking of industry connections, you were recently commissioned by Left Bank to create a limited-edition collection of works, curated by former "The Block" contestant, and founder of interiors studio Cedar and Suede, Carlene Duffy. Could you tell me about this process working with Carlene and Left Bank?
The Feels Like Home collection was a super enjoyable collaboration! Left Bank's main man, Toby, approached me with the concept of painting recognisable Australian scenes. Carlene worked alongside me to curate the collection. Together, we formed an outline of scenes that provoked a sense of nostalgia and home. Having Carlene's unique perspective and eye-for-detail pushed me to elevate my artwork to the next level.
Once the works were painted, Left Bank scanned, printed and framed the limited-edition pieces. The final product exceeded even my expectations – I'm immensely happy and proud to have my name to such an iconic collection.
The timing was perfect; due to the pandemic and numerous lockdowns, all I wanted to do was paint landscapes and to pay homage to our country.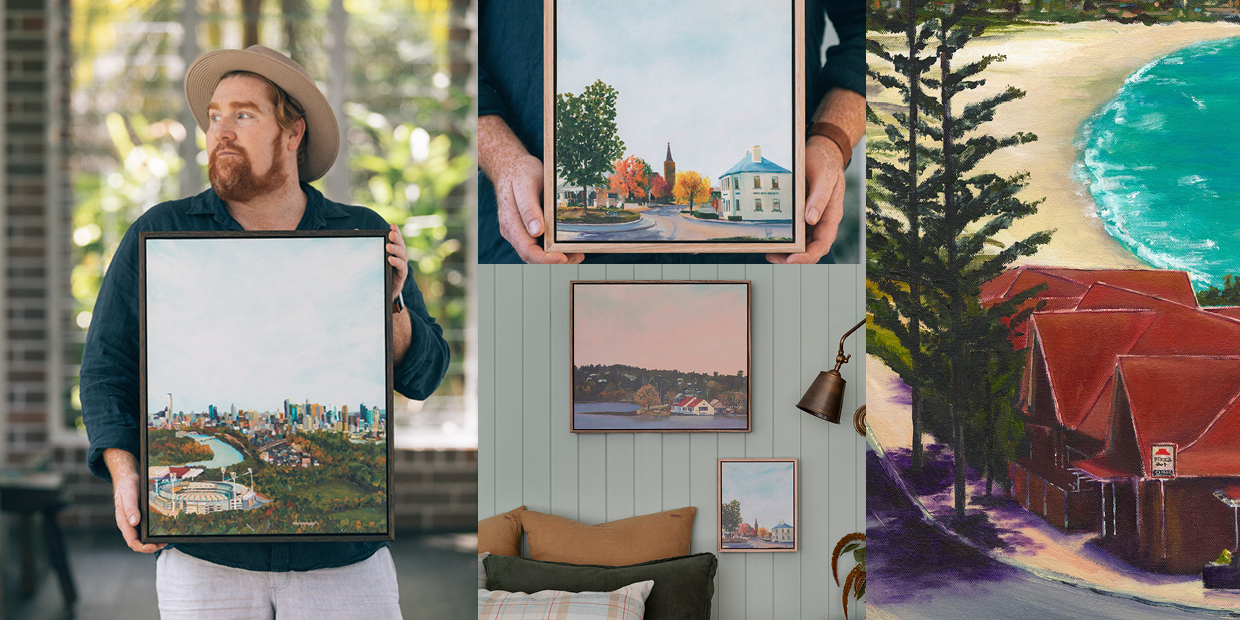 The collection is beautiful, and you should be very proud! It sounds like you've been very productive – what does a day in the life of Dylan Cooper Art look like?
Generally, my day starts with the mad rush to get the kids on the bus. I'll then head out for a quick surf, followed by some stretching to get my mind clear and ready for work in the studio. I paint anywhere from three to five hours before the afternoon school bus pulls up, at which point I am often at a critical part of the painting, of course.
Once the kids are settled, I'll go back to the studio for another hour or so, clean up and get the painting to a place where I can happily return the following day.
The day finishes with family hangs, getting dinner ready and the evening routine of showers, story time and bedtime, which those with kids would know all too well! 
The Feels Like Home collection is obviously a highlight of Left Bank's online catalogue, which features open and limited edition prints from a plethora of Aussie artists. What other artists would you recommend we check out from Left Bank's collection?
There are so many, but I would recommend checking out Nardurna/Ryhia Dank, a Gudanji/Wakaja woman who tells stories through pattern and design. She calls her storying Nardurna, which means 'woman' in her language.
Before we wrap up, could you share four pieces of advice would you give to an emerging artist?
That's a tough one, as each artist's journey is so unique! So, I'll answer this as if I'm talking to my younger self.
It's not a race, take time to find a style you are happy with and is yours. Keep working at it until you have a solid body of work, then start pursuing the avenues you think would best complement your work.
Be open to learning. Get involved with workshops and further studies within the arts, allow yourself to be taken outside your comfort zone and try new ways of expressing your visual language.
Find a good picture framer. Don't be scared to spend money on quality framing – It makes your work more marketable and saleable. You don't need to have every study, scribble or unsuccessful work, and as artist there are many, framed – just the ones you feel are special.
Just keep creating. The more you create, the better your work becomes. As your work improves, more opportunities arise, which leads to your work being supported by a larger audience. You got this!
A collaboration between Left Bank Art Group Brand Ambassador, Carlene Duffy, and Northern New South Wales artist, Dylan Cooper; the Feels Like Home Collection draws its creative inspiration from nostalgic national glimpses reimagined for the modern day. There are only 30 limited edition prints available per size for each Feels Like Home Collection scene, available exclusively through Left Bank Art Group.
Photography by Art-Work Agency – Claudio Kirac and Mindi Cooke
You may also be interested in...